Celebrity Summit * April 17 - 22, 2023


Sold Out Charter
***All itineraries are subject to change without notice.
Online check-in will open approximately 35 days before the charter. Please make sure that everything is correct on your online reservation prior to checking in to ensure a smooth check-in process.

Drink Packages are available online for Pre-Cruise Purchase. Make sure you take advantage of the Pre-Cruise Purchase discount on the drink package. The onboard Drink Package purchase will be at the full listed price.

Individual night specialty restaurant reservations are also available online. These spots fill up quick on ship so make sure to get your desired reservation in ahead of time.

A Bliss Cruise exclusive Clothing-Optional Catamaran Excursion for Ocho Rios will be available for purchase shortly on the Celebrity website. There is limited space on this excursion, so make sure you keep a look out for when it becomes available.



If you have any questions pertaining to the information above please contact us for more information:
Castaways Travel
1-800-470-2020 - (281) 465-4960
Pearly Beach - Clothing Optional Excursion
Bliss has arranged a clothing-optional day at Pearly Beach, Jamaica just 15 minutes from the port. All transportation is included and it's just 2 minutes from Dunn's River Falls. You'll enjoy the following:
Open bar
Everyone gets a chaise chair
Umbrellas and shade areas included
Jamaican buffet lunch
Lifeguard on duty
Lots of eye candy on the beach
There is room for 500 people at a cost of $135 per person. These tickets can only be sold by your Travel Agent and are not for sale on the Celebrity website. The sale is Final (no refunds) and sold on a rain or shine basis.

Book now as space is limited...

Please contact us to book or for more information:
Castaways Travel
1-800-470-2020 - (281) 465-4960
Announcing Summit Entertainment
The Flux Capacitors
It's pretty incredible how much cool and high-profile stuff these guys have done over the past 10 years. Everything from playing at Stan Lee's 95th birthday bash, to writing and producing the theme song for the Ghostbusters Afterlife mobile video game, to working with Netflix on events for Stranger Things, to headlining Star Wars Celebration. They've even been seen on Netflix, Hulu, Amazon Video, and more in the Back to the Future documentary Back in Time...

The Flux Capacitors bring star power with them as each member is backed by insane personal credits and experience. The guys in this band perform with Crazytown, Selena Gomez, Ava Max, Doja Cat, Filter, Hollywood Undead, and more. One of the singers is Danny Cooksey, who was in Diff'rent Strokes, Nickelodeons' Salute Your Shorts, Tiny Toons, and even Terminator 2. And they are getting together to come on our cruise, bring the party, and get everybody rocking and dancing!

So fire up your time circuits, add some plutonium to the DeLorean, and let's all go back to the past while we sail away...


Rob Little - Comedian
Rob is excited to be returning, by popular demand, for his 3rd Bliss Cruise. Having performed at dozens of clubs/resorts/cruises and even having ordained a couple lifestyle weddings, there is no doubt you will see why Rob is a favorite among the lifestyle crowd.

Little uses his training from the world famous Second City Improv Comedy Club to create routines that are inventive, funny, spontaneous, and completely unique. Having established himself as one of the peak performers in Clubs, Colleges, Cruises, and Companies within the Country, it's easy to understand why Last Comic Standing on NBC named him "The Happiest Comic in America," Campus Activities Magazine named him "College Comic of the Year," Carnival Cruise line named him "Top Cruise Line Comedian," Budweiser named him the "Real Man of Comedy", and Maxim Magazine named him "Comedian of the Year." Do we really need to list more? You don't want to miss this show...


DJ Miss Shelton
Making her long-awaited return to Bliss...

Already celebrating 10 years as a high-profile event and performance DJ, Miss Shelton brings her unique take on open format music to everything she touches. Her journey can take the audience from the highest energy dance music to the deepest house tracks with stops in the funk or even Latin vibes...

She has a huge musical gamut to say the least. Miss Shelton has spun for some of the world's most prominent celebrities, brands and tech companies including Justin Trudeau, Cardi B, Ferrari, Jazzy Jeff, L'Oréal, EA Games, Daddy Yankee, Red Bull, Six Flags, Sean Paul and Michael Kors just to name a few. Miss Shelton is currently streaming live from her personal studio on Twitch.tv on a regular basis and has already amassed an impressive following of more than 75, 000 people on that platform, where she is regularly in the top performers worldwide in the music category with a steady viewership in the thousands.
- - - - -
Join the Castaways Cowgirls on Monday at the Rendezous Lounge at 8-9pm for some line dancing---Texas style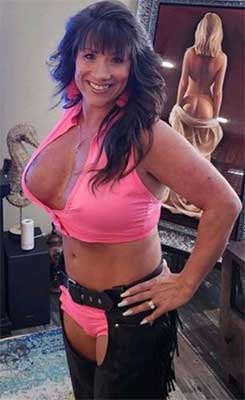 Along with Bliss' Resident DJ's
DJ Philly Phil

Always in the middle of the action, DJ Philly Phil brings the team together to produce some of the most explosive events found on Bliss Cruise. You can find DJ Philly Phil on Bliss Cruise in multiple events throughout the ship.

DJ Steven B

Steven B has a weekly radio mix show on B104, Kiss FM. Once again voted hottest night club DJ in Wisconsin 7 years in a row, Steven B has been performing from coast to coast at some of the hottest clubs in Los Angeles, Chicago, Miami and Vegas.
DJ C-Lo

Back for the second time on a Bliss Charter, he's the first DJ in NYC employed by 2 different radio stations in 2 different genres.
Mark Maze - Karaoke
Mark Maze is an award-winning entertainer. His quick wit and friendly personality make Mark a favorite at lifestyle events everywhere. His many shows include; comedy magic, acoustic guitar entertainment, karaoke, DJ/VJ, custom game shows, and emcee. Mark has opened for Lionel Richie and others. Don't miss this opportunity to enjoy top lifestyle entertainment by Mark Maze.

In addition to all this, Bliss will have a variety of seminars and interactive workshops on the charter, along with an assortment of daily meet-and-greets so you can get to know new couples.



If you have any questions pertaining to the information above please contact us for more information:
Castaways Travel
1-800-470-2020 - (281) 465-4960
Celebrity Summit Theme Nights
Monday
Daisy Dukes and Cowboy Boots



WANTED

: all cowboys and cowgirls. Saddle up and put on your best boots and daisy dukes for a night of hootin' and hollerin'.

Tuesday
Medieval Formal Night

Hear ye! Hear ye! Calling all Kings, Queens, Knights and Nobles. Put away the traditional tuxedo and ball gown because we're going back in time to the Renaissance for our Medieval Formal Night.
Wednesday
Galactic Glow Night

Bliss is calling on all Space Cadets, Aliens, Trekkies, Wookiees, Storm Troopers, Klingons, Romulans, Jedi Knights and any other galactic personality to come in your brightest glowing apparel. Show all of us "earthlings" how much you stand out at the Bliss Cruise Galactic Glow Party.
Thursday
Freaky Fetish

What's your safe word? Enter the world of sexual fetishes and BDSM. Show off your kinky side and explore your freaky fantasies.
Friday
Psychedelic Tie Dye

Tonight will be a kaleidoscope of bright, bold and psychedelic colors. Let's party our last night away in a fashion trend that represents free-spirited individuals looking to make a statement...
*The order of the themes is subject to change.
If you have any questions pertaining to the information above please contact us for more information:
Castaways Travel
1-800-470-2020 - (281) 465-4960
Mariner of the Seas * April 22 - 27, 2024


Great News - Cruise Update
***All itineraries are subject to change without notice.
We have great news for this Bliss lifestyle cruise. There has been an itinerary change for our Spring 2024 charter onboard the Mariner of the Seas. We are now making a port-of-call in Bimini, Bahamas. This 5-night, clothing-optional adventure will depart from the Port Canaveral, FL with stops in Labadee, Haiti and Bimini, Bahamas.

The new Mariner of the Seas is packed with more ways to play on the most maxed-out getaway ever. Think splashy new ways to play, delicious new dining concepts, and a few surprises to thrill even the boldest lifestyle warriors.

We will have details shorty on an excursion that will be going to the World Famous Bimini Beach Club so stay tuned to upcoming Bliss newsletters.



If you have any questions pertaining to the information above please contact us for more information:
Castaways Travel
1-800-470-2020 - (281) 465-4960
Booking Info | Castaways Travel
info@castawaystravel.com


1-800-470-2020

or 281-465-4960
Call for immediate cabin availability and pricing.

Reach us by "Snail" Mail
Castaways Travel,
25701 IH-45 North,
Suite #3A
Spring, TX 77380